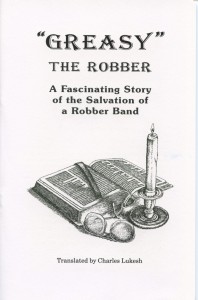 A FASCINATING STORY OF THE POWER OF THE GOSPEL OF JESUS CHRIST
In the following pages you will find one of the most gripping true stories of the power of the gospel. It is a story of Russian immigrants on the way to Siberia with their family. The parents succumb to cholera, leaving the two children, Shura and Pasha, to fend for themselves. The boy is picked up by robbers, joins the band, and helps kill two Christian travelers, finding a New Testament in the loot.
What happens after that only the angels will he able to fully reveal. However, enough is known from the testimony to stir the coldest heart. Nothing like it has ever come to the desk of the publishers. Every Christian ought to read this testimony for inspiration; all unsaved persons who doubt the power of the gospel will be stirred to the depths. Christians should make this booklet available to lost sinners.
-Cyrus Osterhus
Foreword
This story of the former penitentiary inmate was translated from the German after being translated from the Russian. The original translators stressed their endeavor to maintain the simplicity of the author; similarly we pass it on in the English translation in the hope that it may be a blessing to many that read it. The story proves the words in Romans 11:33, 36: "0 the depth of the riches both of the wisdom and knowledge of God! how unsearchable are his judgments, and his ways past finding out! … to whom be glory for ever. Amen."
-Charles Lukesh
————————————-
This booklet is available for a contribution of $.25 plus postage.
This booklet is available in the following languages:
Czech
English
Romanian
Russian
Spanish