INTRODUCTION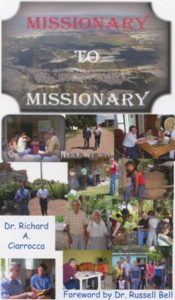 I would like to make something perfectly clear at the beginning of this book; my objective is to try to be a help to missionaries as I address a number of areas that, for whatever reason, people do not want to OPENLY talk about. Please keep in mind that I am an independent, fundamental Baptist who uses ONLY the King James Bible; I only associate with believers of this persuasion. I am NOT at war with anyone who may disagree with me nor will I lower myself to the level of a supermarket tabloid reporter or a politician. At the same I will NOT pull any punches about what needs to be said in these areas that pertain to missionaries. You may be wondering why I am "clearing the air" right from the start. Well, it seems that in this day and age that we live in; some fundamentalists appear to be so thin-skinned and tend to take things the wrong way. I once knew a pastor who at times tried to be so-o-o-o-o-o tactical and diplomatic in what he said (or failed to say) that after it was all said and done the hearer was left to wonder what he had said. The other extreme is to just say it, be blunt, shoot from the hip, be up front, be painfully specific, etc. At least with the latter the hearer is not left to wonder what was said by the speaker. It is my personal opinion that we should try to use tact, finesse, and diplomacy when communicating while clearly communicating. However, there are times when we need to just tell it like it is; I will tell it like it is while trying to use tact, finesse, and diplomacy in the course of this book. Somehow I suspect this will be a catch-22 as there will still be some who will take offense; others will understand. My prayer is that you at least will close the book having digested the material contained within, in the spirit it was intended from my heart to yours, and be better for it.
The first missionary-related book I wrote, "The Church's Responsibility to Missionaries" was not taken too kindly by one pastor who wrote with some scathing comments. What this pastor failed to understand was that I was NOT trying to make "…the Pastors out to be the bad guys over and over again" nor did I have "…an axe to grind with Pastors." It was my intent to address some areas OPENLY with the hope that in doing so some churches would be helped. With this said, and lest any reader, missionary, pastor, layman, student or whoever should misunderstand, I do NOT have an axe to grind with anyone, nor am I trying to make missionaries look bad. As this book is being written, I have been in the ministry for well over 30 years. In 1991 I was commissioned as a missionary printer and continue in this capacity. I have served as the director of a small mission for nine and one-half years and have made many missionary trips. I am a missionary, I work with missionaries, and missionaries are dear to my heart. As a matter of fact, it is my personal opinion that missionaries are choicest among God's servants. I admit to it, I am partial to missionaries.
So why did I write this book for missionaries? Missionaries are human and, just like any other person, we do things we should not, we make mistakes, we do things that may cause the loss of support, things we did not think about, things we say or fail to say, or worse yet, something another person put us up to saying because they were not man enough to do it. As an individual missionary, I have made many mistakes, some of which I am confident I did not get support because of. Something that we thought was harmless enough was NOT viewed the same way by the host pastor; I know I have been guilty of this. As a missionary associating with other missionaries such as in a mission conference, mannerisms needing correction have been observed. As one who hosted a weekly radio broadcast where missionary letters were read, I read so many with glaring errors; hopefully the pastors receiving those letters were picking up on them. That is of course if a pastor read them at all! As a mission director dealing with missionaries and in talking with other mission directors, I have been the recipient of information; some good and some not so good. As a church member sitting in the pew listening to and observing visiting missionaries, I have seen so many who were letter perfect while others could use some help. So what's my point here? I am hoping and praying that this book will be used of the Lord as an encouragement to some and a help to others. By sharing some of my own personal experiences, the bad ones in particular, perhaps another missionary will learn from and avoid them. In bringing up some problem areas with other missionaries I am NOT on a witch hunt trying to make anyone look bad; hopefully no one will think so. If only one missionary benefits from this book, well, I reckon it will have been worth the labor of writing it.
It will not surprise me if the book is criticized for a lack of Scripture references. There will be a few Scripture references but please understand this book is not intended for use as a theological commentary; it is a book for missionaries and about missionaries.
For those readers who are not missionaries I would like to encourage you to learn as much as you can about them; read missionary biographies. Missionaries are NOT people who could not make it in another segment of life; they are God's choicest servants representing the local church in other parts of the world. They have gone or are going to a place you could not or would not go. There is much I would like to say here but will not, instead I encourage you to read the last chapter entitled "The Missionary"; it is a missionary message that the Lord laid on my heart to hopefully to stir the hearts of His people.
I most sincerely pray and desire that all readers of this book are encouraged and helped by it, but most importantly, that the Lord Jesus Christ receives ALL of the honor and glory from it.
Thank you kindly!
Richard A. Ciarrocca, D.D.
TABLE OF CONTENTS
Foreword by Dr. Russell Bell
Chapter 1 Introduction
Chapter 2 Personal Discipline
Chapter 3 Your Mission Board
Chapter 4 The Pastor-Missionary Relationship
Chapter 5 Scheduling Meetings
Chapter 6 Arriving Or While At A Church
Chapter 7 Dining At The Church Or With A Church Family
Chapter 8 Missionary Support
Chapter 9 Personal Hygiene
Chapter 10 Personal Financial Indebtedness
Chapter 11 Financial Accountability
Chapter 12 The Missionary And Taxes
Chapter 13 Thoughts On Soul Winning
Chapter 14 The Missionary Tithe
Chapter 15 Once On The Field
Chapter 16 Entertaining Visitors From Home
Chapter 19 Missionary Prayer Letters
Chapter 20 Resigning From A Board
Chapter 21 Medical Insurance
Chapter 22 Jack Of All Trades
Chapter 23 Beggars, Whiners, And Making The Needs Known
Chapter 24 Dealing With Discouragement
Chapter 25 Advice From A Missionary Wife
Chapter 26 Miscellaneous
Chapter 27 Missionary Quotations
Chapter 28 Gold Mining
Chapter 29 How To Pray For Missionaries
Chapter 30 The Missionary
Chapter 31 Something To Chew On
Chapter 32 World Missions: Home Vs. Foreign
Chapter 17 Furlough And Support
Chapter 18 Acknowledging Support And/or Gifts
This book is available for a contribution of $9.95 plus shipping.