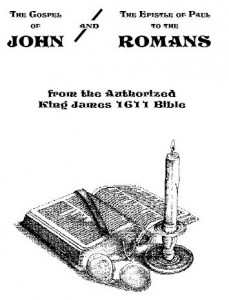 The John/Romans booklet measures 5.5 x 8.5 and is 78-pages. The Gospel of John portion is identical to the Gospel of John that is printed separately in a pocket size (4.25 x 5.5, complete with all of the helps. Romans is just the book of Romans with no special helps. At the end of the John/Romans is the Romans bookmark and three Gospel tracts; The Romans Road, Have You Benn Born Again?, and God's Plan for Salvation. The way the booklet laid out, there would have been a few extra blank pages at the end and we did not want to waste the space.
The John/Romans is available in the following languages:
English 
Spanish
The John/Romans is available for a gift of $1.00 per copy, plus postage.